Prepping for my trip to Sunset Savor I am testing out three outfits / dresses that I can just throw in my Go Bag and not worry about.
The first one is a Jones New York Signature Woman dress originally destined to be sold on eBay but with my weightloss and a coworker goading me into trying to wear sleeveless dress I put it on recently and happy it fit pretty nicely. I can pair my boots with this or nice gucci tennis shoes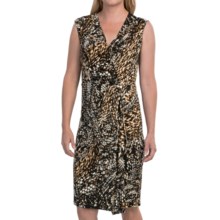 similar style dress
Next up is a very old Worthington sleeveless dress that is over 15 years old seriously the sleeveless dress is classic a line maxi cut that I can't find a similar style to but found a black to show you
Again I can pair this with a nice pair of Keds in patent leather black or beige
Finally I have a great coverup from Walmart that is only about 5 years old but it works again more as a coverup than a dress yet I think I will love it. I found it in the store but to avoid me taking pictures here is someone selling it on eBay
Now I think I bought mine on sale for something insane like $6 and I have enjoyed it for a hot weekend wear as it is light and perfect coverup to go to the beach in.
and these Toms would be nice to wear too
So barring a rainstorm I think I have my outfits ready to go for a trip to SLO